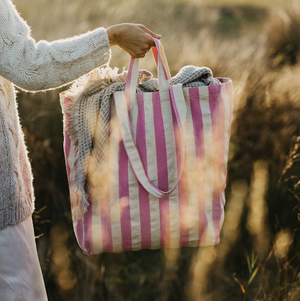 Tote bag Original - Striped PINK
Rabatterat pris Pris €29,95 Ordinarie pris
Skatt ingår
Frakt
räknas ut i kassan.
We all know someone who loves pink, so a pink-striped tote bag feels like a given! Like an ice cream on a summer day.
Our wonderful Original fabric bag is decorated here with fine pink stripes. Bring the summer ice cream feeling with you all year round with this useful tote bag with a wide bottom. The tote bag also has double handles - something our loyal customers love.
Manufactured according to GOTS certification's strict requirements for both the material and the working environment - for us at OMOM, this is very important. The stripes are dyed at our GOTS-certified paint shop, with non-toxic paints.
Dimensions: 40x37x18 cm
Color: Natural, untreated organic cotton + pink stripes
Double handles: Shoulder strap that is 65 cm long and handle that is 30 cm
Material: Gots-certified organic cotton
Wash: at 30 degrees and spin gently. Shrinks slightly on first wash.
This striped fabric bag is manufactured in India by a GOTS certified partner that is visited regularly. (Read more about the certification and what it means under "about us").