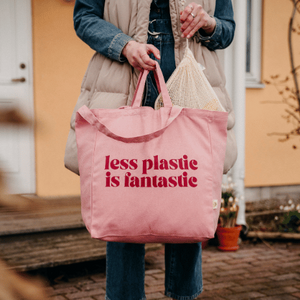 Organic tote bag Natural with print
Rabatterat pris Pris €25,95 Ordinarie pris
Skatt ingår
Frakt
räknas ut i kassan.
Our kind but slightly annoyed cat says what we're all thinking - can't everyone just start using reusables now?!

The bag is equipped with double handles and a sturdy bottom - you'll never want to use a cramped ill-conceived bag again! Made of durable canvas fabric that lasts year after year.

The fabric bag is organic and GOTS-marked. The certification means that the material is fully controlled, from planting, to cultivation, to spinning and manufacturing. It also means that the working environment for everyone involved, the farmer, the craftsman, the transporter etc., is controlled and provides a so-called living wage (this means that it is possible to live on it, so that the producers do not have to double work).
The print is water-based - no hazardous substances are used at the print shop, which is also certified according to GOTS.
This is a real top bag, both with an incredible number of uses and with an important message.
Fantastic print by Illustrator Josefin Norin based on idea by OMOM.
Dimensions: 40x37x18 cm
Double handles: Shoulder strap that is 65 cm long and handle that is 30 cm
Material: Gots-certified organic cotton
Wash: at 30 degrees and spin gently. Shrinks slightly on first wash.
Made in India by a GOTS certified factory which is regularly visited. (Read more about the certification and what it means under "about us").
Quote from one of our customers Frida:
"The best product in the world. They are incredibly strong tote bags that are good for everything from 12 l of milk to packing. The mesh bags for fruit and vegetables are flexible and good for most things, use for all smaller things as well except fruit and vegetables. Great products that I Highly recommend!"