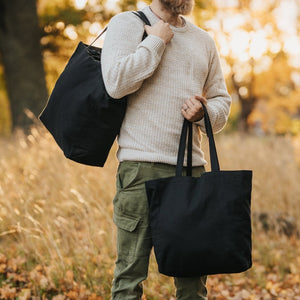 Organic tote Original Black
Rabatterat pris Pris 131,00 kr Ordinarie pris
Skatt ingår
Frakt
räknas ut i kassan.
Our sturdy and functional tote bag in organic canvas! Now in black, colored according to GOTS certification requirements. The bag has a bottom so that it can accommodate your goods in a good way. In terms of size, it corresponds to a cardboard bag that you might buy in the store sometimes. Carry in the hand or on the shoulder - the tote has double handles!


Dimensions: 40x37x18 cm
Double handles: Shoulder strap that is 65 cm long and handle that is 30 cm
Material: Gots-certified organic cotton
Wash: at 30 degrees and spin gently. Shrinks slightly on first wash.
Made in India by a GOTS certified factory which is regularly visited. (Read more about the certification and what it means under "about us").

A cotton tote needs to be used a large number of times for it to make an environmental difference, so we made this bag in really strong and thick untreated cotton fabric that is guaranteed to last for many years. Even the label is made of organic cotton.


Quote from one of our customers Frida:
"The best product in the world. They are incredibly strong tote bags that are good for everything from 12 l of milk to packing. The mesh bags for fruit and vegetables are flexible and good for most things, use for all smaller things as well except fruit and vegetables. Great products that I Highly recommend!"