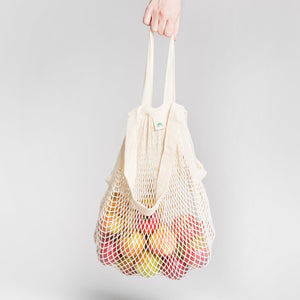 Organic net bag
Rabatterat pris Pris 77,00 kr Ordinarie pris
Skatt ingår
Frakt
räknas ut i kassan.
This wonderful mesh bag is perfect to have in your purse when you need to buy something spontaneously. Takes up little space but holds a lot! Double handles so you can carry in your hand or on your shoulder.
The mesh bag is also a popular and beautiful interior detail! Hang on a beautiful hook with the children's bricks in it, in the bathroom with toilet rolls in it, in the hall with gloves in it and so on.
Put a mesh bag in your purse, a mesh bag in the car, etc. to always be ready to skip the disposable bag.

Size: 32x47x17 cm. The mesh bag is quite small before you use it for the first time, so it stretches out a little.

Wash: 30 degrees and spin gently. Material: Gots-certified untreated cotton