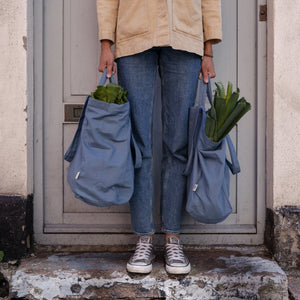 Organic fabric bag Original Blue
Rabatterat pris Pris 131,00 kr Ordinarie pris
Skatt ingår
Frakt
räknas ut i kassan.
Now, our fantastic tote bag has been dyed in an ecological and lovely dye bath - in blue!
The same perfect size as a roomy paper bag in the store and with double handles so you can carry it on your shoulder or in your hand. This tote bag will last for many, many years! You can also carry all your heavy items, it lasts!
Manufactured according to GOTS certification's strict requirements for both the material and the working environment - for us at OMOM, this is the most important part of our brand.

Dimensions: 40x37x18 cm
Double handles: Shoulder strap that is 65 cm long and handle that is 30 cm
Material: Gots-certified organic cotton
Wash: at 30 degrees, hang dry. Shrinks slightly on first wash.
Made in India by a GOTS certified partner that is visited regularly. (Read more about the certification and what it means under "about us").
Quote from one of our customers Frida:
"The best product in the world. They are incredibly strong tote bags that are good for everything from 12 l of milk to packing. The mesh bags for fruit and vegetables are flexible and good for most things, use for all smaller things as well except fruit and vegetables. Great products that I Highly recommend!"
Please note that there is variation in the color from different dye baths.
We know that many of you have been waiting, after a vote on Instagram , blue was voted the winner for the next color of the tote bag.